SABAH SNAKE GRASS

Sabah Snake Grass is the traditional name for Clinacanthus nutans Lindau (C. nutans), a species of the Acanthaceae family. It is known by the common names belalai gajay (Malay), phaya yo (Thai), ki tajam (Sunda) and dandang genesis (Jawa). This particular plant is inculcated mainly in the conventional herbal practices of Malaysia, Indonesia, Africa, China and Thailand, and Central America. However, it is commonly found in East Malaysia of Sabah, hence, the name "Sabah Snake Grass".
This plant exhibits antimicrobial, anti-inflammatory, anti-herpes simplex viral activity, antiviral, immune-boosting, antivenom, antioxidant, anti-dengue, and antiproliferative anticytotoxic. And anti-diabetic properties.


Biochemical Information of Sabah Snake Grass

This plant contains some bioactive compounds such as glycosides, flavonoids, glycoglycerolipids, cerebrosides, and monoacyl monogalatosy/ glycerol.


Medicinal uses of this plant include: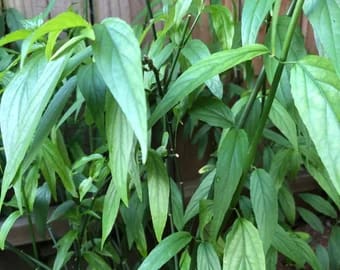 This special plant is an anti-venom for snake, scorpion, and insect bites; anti-VZV infection; treatment for skin rashes, varicella zoster, herpes simplex, and herpes genitals lesions; dysentery, as a diuretic; diabetes, cancer, dysuria, fever, gout, kidney syndrome, liver conditions, nasal conditions, menstrual issues, constipation, pain relief, anemia, jaundice, nettle rash, setting of fractured bones, benign growths, kidney problems, high blood pressure, cholesterol, prostate inflammation. Also used in the treatment of Dengue virus, eczema, shingles, hematoma, and contusion, strains, sprains, gout, rheumatism and treat lesions caused by the herpes simplex virus.


Finished Product forms

The Sabah Snake Grass popularly sold in the form of creams, lotions, capsules, tablets, herbal tea, powder, concentrated extracts, and secondary metabolites in physical and online shops and in herbal health facilities is a great way of usage if you do not want to use the fresh leaves in your daily routine. You can also get the fresh plant to buy.
You can consume it as a way of preventing the diseases mentioned above and/or staying healthy by eating the leaves raw and fresh or even dried, as a tea, soup, omelet, or as an ingredient in smoothies.


Nutritional Content

Nutrients in the snake grass plant are Vitamins C and B1, Potassium, Calcium, Sodium, and Copper.


Growth

This is a perennial plant that can grow at least 1 m high but not more than 2.5 m, and well-suited to grow in tropical environments with warm climates and constant moisture. Water the plant regularly, but do not overdo it. It is straightforward to regrow or grow this plant. Place stem cuttings in water and wait for two weeks. New leaves and roots would begin to sprout, then transfer to the soil.
Alternatively, plant the stems directly into the soil.