Butterfly pea
Butterfly pea, also known as Clitoria ternatea, is a perennial herbaceous plant belonging to the Fabaceae family. Due to its potential use in agriculture, modern medicine, and as a source of natural food colorants and antioxidants, it has recently gained a lot of attention. Early research evaluated the plant for these uses because Clitoria ternatea has been grown for many years as a forage and fodder crop.
According to studies, the herb has a wide range of neurological advantages, including increasing brain function, easing anxiety and sadness, and lowering fever.
The butterfly pea has been demonstrated in research to positively influence the following important bodily systems:
The reproductive system: According to reports, the butterfly pea is spermatogenic and promotes regular sperm production.
The Integumentary System – Early aging affects the skin frequently. The flavonoids in butterfly pea have been discovered to increase collagen synthesis and skin suppleness.
The Digestive System: Butterfly pea has modest laxative, anti-indigestion and stimulates the flow of bile from the liver
The circulatory system: The butterfly pea is a blood purifier and can help stop bleeding (hemostatic).
The Respiratory System: Butterfly pea functions as an expectorant and has been demonstrated to lessen the irritation of respiratory organs, making it effective in the treatment of colds, coughs, and even asthma.
The Nervous System: Butterfly pea has a relaxing impact on the nervous system and the brain.
The Urinary System – The Butterfly Pea is a diuretic that aids in promoting regular urination and can be used to treat dysuria (difficulty urinating)
The butterfly pea is one of the few plants on our planet that contains cyclotides and peptides that have been found to have anti-HIV and anti-tumor effects, albeit some cyclotides are harmful to cancer cells.
You can use the powder made from the ground-up butterfly pea leaves to enhance your cognitive ability, improving memory and brainpower.
Acetylcholine, an important neurotransmitter, decreases significantly as we age and Butterfly Pea has been found to stimulate its production.
For centuries, some cultures have harnessed the medicinal properties of Butterfly pea in the treatment of male baldness and premature greying. A key ingredient in Butterfly Pea is Anthocyanin, thought to increase blood flow in the scalp and sustain and fortify hair follicles.
Clitoria Ternatea is healthy for the liver and possibly beneficial for diabetics via its ability to inhibit glucose intake.
Since the herb's seeds and root extract are known to lower triglycerides, Butterfly Pea may benefit cardiovascular health.
The butterfly pea is thought to increase water loss, which reduces blood volume and lowers blood pressure. Additionally, there are theories that this diuretic impact promotes rapid but typically transient weight loss.
Clitoria Ternatea is known to reduce fever (act as an antipyretic) by enlarging the blood vessels under the skin, causing an increase in blood flow to areas of the body where the blood may be more easily cooled.
You can use Butterfly Pea as a natural food coloring. The color of butterfly pea flower tea, which is created from ternatea flowers, is influenced by the liquid that is added; when lemon juice is used, the tea turns purple.
TEA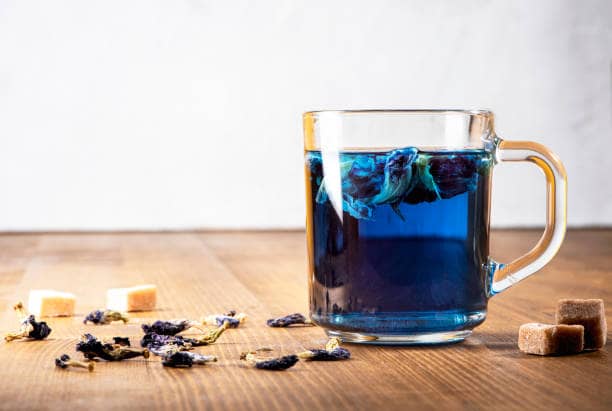 Simply place ample quantities of the Clitoria Ternatea flowers, either fresh or dried, in a regular tea cup with hot water, and let simmer for 10-15 minutes.
Strain the liquid and toss the flowers once there is no longer any color in the petals. You'll be left with a stunning indigo-colored tea.
You can also add a few drops of lime juice to the tea to give it a sweet-and-sour flavor and make the tea a deeper shade of purple.
Benefits of Butterfly Pea (Clitoria Ternatea)
Improve eyesight: Ternatea has an antioxidant (proanthocyanidin) that enhances blood flow to the eye capillaries, which makes it effective in treating glaucoma, blurred vision, retinal damage, and weary eyes.
Improve hair growth: The Butterfly Pea, high in bioflavonoids, can slow down hair aging and encourage growth.
Improve skin: Ternatea promotes the production of collagen and elastin, which improves skin renewal and reduces wrinkles and other aging symptoms.
Aphrodisiac: Traditionally, butterfly pea has been used as an aphrodisiac, especially for women, and to cure menstrual irregularities or white vaginal discharge.
Antioxidant: The flowers are packed with flavonoids, anthocyanins, and phenolic compounds that stimulate antioxidant activity, which reduces oxidative stress brought on by disease-causing and aging free radicals.
Diuretic: The butterfly pea encourages regular urination, which decreases blood pressure.
Analgesic: • Clitoria Ternatea has been used as a local anesthetic for a long time because of its capacity to lessen pain and swelling.
Anti-inflammatory: Flavonoids are present in the blooms of deep indigo. Flavonoids are potent antioxidants with anti-inflammatory and immune system properties that are present in practically all fruits and vegetables.
Anti-Asthmatic: Because it serves as an expectorant and lessens the irritation of respiratory organs, you can use it for common cold, cough, and asthma.
Anti-diabetic: can inhibit glucose intake from the diet.
Anti-HIV/Anti-Cancer/Tumor: Cyclotides, which are found in butterfly pea, have been shown in research to have anti-HIV properties. The cyclotides can cause cancer cell death by disrupting the integrity of the cell membrane.
Indeed, Clitoria Ternatea is a superfood and hence ingenious ways of inculcating it into our daily lifestyle should be the way to go.